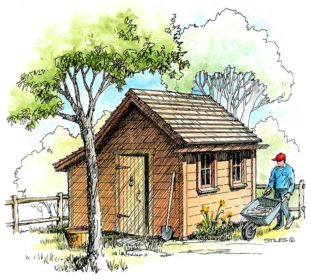 Designer: Stiles Designs
Size: 10′ x 11′
Price: $19.95
This sturdy garden shed design is typical of many barns found in the northeast part of the United States, where farmers started with a simple gable-roofed structure and later added a shed roof off the rear. It features a large skylight and an overhang for covered outside storage of bikes, firewood and garden equipment. This shed is built using simple lap joint, timber-frame construction.
The plans consist of eleven (11) pages of illustrated, step-by-step instructions, a list of materials, and detailed drawings for building the hand-made windows and skylight.