Here is one of those things that really bugs me. Depending upon how the construction contract was worded, it probably isn't actually wrong, but it could certainly look much better.
This foundation was constructed of poured concrete. It features a faux brick finished texture and it has been painted white to match the vinyl siding located above it. The dark reddish-brown brick veneer for the chimney has been placed on top of the foundation, at the same level as the first floor, instead of on a brick ledge at ground level — as the brick on the front of the house has been more correctly placed. Since brick chimneys are generally a major focal point, this pet peeve is hard to dismiss.
One normally expects an object as large as a masonry chimney to be anchored securely to the house and its footings. However, a surprisingly large number of builders apparently don't give this a second thought, so many homeowners end up with what you see here. The ultimate effect, particularly in this example, is that of a chimney floating in mid air.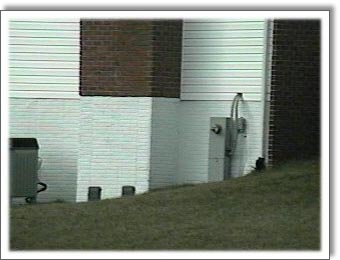 There are reasons for building a chimney like this, they just aren't very good. The foundation contractor saves time but not necessarily money. While he does not have to do the extra work of preparing a special brick ledge, more concrete is used in the foundation. The mason saves time and money by not having to build a block foundation and installing less brick veneer. The builder saves the cost of the brick and block that would have been needed if the brick had started at the ground. Perhaps most importantly though, it is simply easier for everyone. No one has to take the extra time to figure out where to set the brick ledge and no one has to do any special work. Imagine how much easier, and less expensive, it would have been to install the brick veneer on the front in the same way.
Before you build, check to see how your chimney will look when it is finished. If the answer is not to your liking, ask for a price to install the brick for the chimney so that it starts at finish grade. Better yet, tell your builder that this is one of your "pet peeves" and ask him to see if the foundation contractor and the mason could work together to figure out a better way.
If this happens to be your house, some well placed shrubbery could hide the unfinished foundation from casual viewers, but plants cost money too and it would take several well-placed, fairly tall, evergreen shrubs to camouflage things throughout the year. Besides, it would still bug me!
Good luck with your project, thank you for visiting B4UBUILD.COM and have fun building!
Take care,
Greg