Instead of Sand, Mulch or Wood Chips…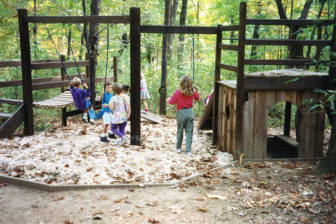 Before you build or assemble that new backyard playground for your kids or grand kids, be sure to consider one very important trait most young children exhibit; If they can, they will…
You do remember how "some" kids (really, it was always someone else) used to jump off the heavy canvas sling seats or sturdy wooden planks on those old metal swing sets? The same contraptions that more often than not were installed on hard-packed, grass bare, deeply rutted dirt playgrounds so common many years ago. It was always a challenge – so I was told – to perfectly time your leap to the exact moment when the swing seat reached the apex of its arc to see whom could fly the farthest in a Superman sort of pose.
So, now that we have survived to be parents and grandparents, instead of sand, mulch, or wood chips, consider using a 9 to 12 inch layer of washed pea gravel around swingsets and play areas. Critters don't use it as a litter box; it drains quickly and dries faster than wood; it doesn't get all over the house like sand does; it doesn't rot so it never needs to be replaced like mulch or wood chips; since it has a natural tendency to roll, it can be moved fairly easily during installation and to maintain proper depth under swings and at the bottom of slides; and most importantly, it's good at dissipating the force of a fall.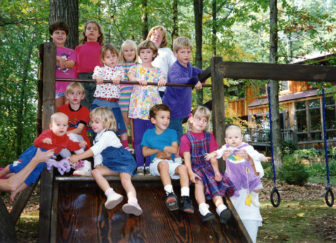 Pea gravel can be contained with a wood border — just be sure to install any hard edging material far enough away from swings and tall structures so "falling kids" do not land on it. Place landscape cloth or filter fabric underneath the stone to keep it from gradually disappearing into the soil and to block volunteer seedlings from gaining a solid hold into the ground.
Of course, every fall protection system has a few downsides… in the case of pea gravel, besides being easy to throw and tough on lawnmowers, it may fit very nicely up one's nose and in one's ear 😉