Here is another one of my "pet peeves". Like most of the examples we will show you, it isn't actually wrong, but there is a much better way.
This beautiful two story brick colonial home sits proudly atop a small hill and offers a grand and stately appearance to all. The owners gave a lot of hard earned money to their builder who did everything he could to build them a house that he would be proud to live in himself. Unfortunately, he forgot to tell the plumber the obvious.
Look on the main roof to the left of the front gable. While it is a little difficult to see in the first photo, in real life it is all too clear what "bugs" me about this plumbing job. It looks like someone was either too cheap to spend a few extra dollars to route the vent pipes to the back side of the roof, or that they never even thought about what they were doing to the front elevation of this house. I am not sure which scenario is worse.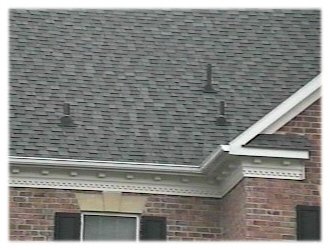 While it is understandable that this could happen, and it probably isn't a violation of anyone's contract, it is a violation of good old common sense. Brick veneer with precast window heads, a fancy cornice detail, an attractive heavy weight architectural shingle, and UGLY VENT PIPES!  Instead of just painting the white PVC pipes black, (imagine how it would have looked had the pipes not been painted) the offending party should have rerouted these vent pipes to a less conspicuous location, at his or her expense.
Plumbing vents, like many other types of vents, are a necessary part of the mechanical systems in virtually every home. However, very seldom is there a situation where the only place that a plumbing vent can exit the roof is in a highly visible location on the front elevation. You and your builder, need to discuss the location of all plumbing and exhaust vents that will be showing outside your house, before you build.
Good luck with your project, thank you for visiting B4UBUILD.COM and have fun building!
Take care,
Greg