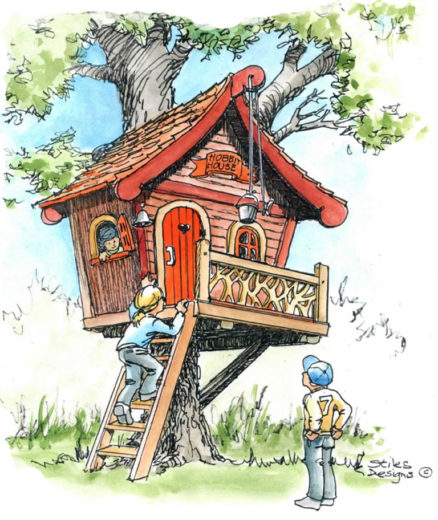 Designer: Stiles Designs, Inc.
Size: 5′ x 3′-6″ with a 2′-6″ porch
Price: $19.95
This Hobbit House was inspired by the architecture of the houses shown in the Lord of the Rings trilogy, written during the mid- 1900s. Although it is not built into the ground with a circular door, we think our design reflects the spirit of a Hobbit dwelling with its curved roof and funky windows. Its charm is in the "higgledy-piggledy" design that is purposely a little crooked.
This small playhouse can be built to rest on the ground for toddlers and then a few years later raised on stilts with stairs and a slide. It can also be built in a tree as we describe later.
Plans include seventeen (17) pages of illustrated instructions for building this unique kids playhouse or treehouse.
Sample Pages: