Designer: Stiles Designs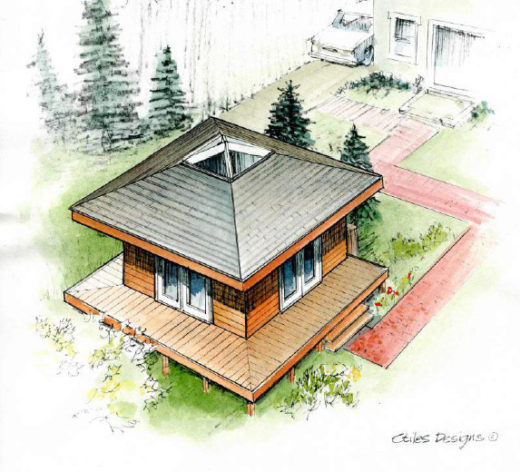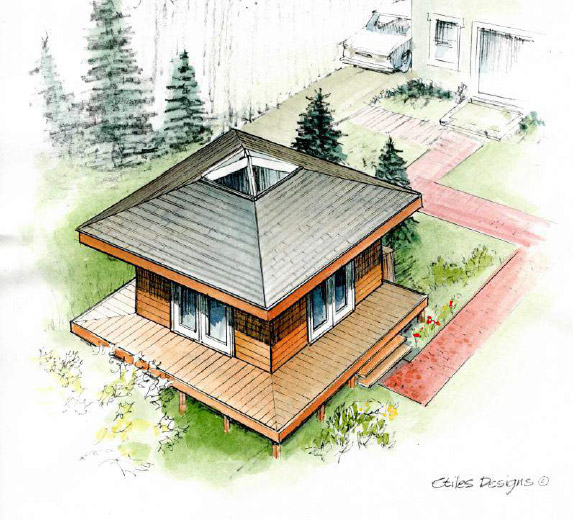 Size: 14′ x 14′ (22′ x 18′ including deck)
Price: $24.95
This tiny backyard house is ideal as a "granny flat", guest house, home office, artist's studio, or a place to stay while renting out the main house for extra income. Also called an Accessory Dwelling Unit (A.D.U.), the house is purposely made small (14' x 14') for zoning and land use compliance; this also helps respect the neighbors' privacy, and keeps the building affordable, easy to build, and easy to heat.
It is intended for use by one or two people, and includes a sofa bed (queen) that folds up during the day to make room for entertaining or working at the computer or watching television. In one corner is a small kitchen with a mini refrigerator, hotplate, toaster oven or microwave, plus cabinets for pots and pans and kitchen utensils. Another feature of the kitchen is twin trash receptacles that dispose of wet or recyclable trash from the counter and into an outdoor receptacle – so no more taking out the trash!
In another corner is the home entertainment center featuring a large-screen TV, and a computer desk that converts into a 5' table for three. The TV is easily seen from the bed when the sofa is rolled out. There's a closet next to the sleeping area for pillows and blankets.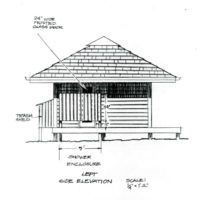 In the far corner is another closet for clothes, overcoats, and suitcases. Behind a wall in the rear of the room is the tiled bathroom, with a toilet and sink including storage underneath the counter. And here's the kicker: there is no tub or indoor shower. You just turn on the shower from the inside, wait till it's nice and hot, then step outside into a partially enclosed cedar outdoor shower and enjoy nature! You can then run back inside (only 2' away) and turn off the water from where your warm towel awaits you. How refreshing, and what a way to start the morning!
We were able to fit so much into the building through economy of space. In most interior designs, corners are not used to best advantage – they contain articles that are seldom used, such as lamps, extra chairs, etc. We have made maximum use of the corners, with only the convertible sofa bed in the middle of the room; this, together with the cathedral ceiling, gives the house a more spacious feeling.
Hand drawn plans include 20 pages of detailed, illustrated instructions with a materials list to build this tiny backyard house.