Residential Building Codes, Construction Standards, Building Permit Information & Links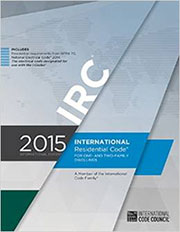 2015 International Residential Code for One- and Two-Family Dwellings
IRC 2015 Looseleaf (Ringbinder)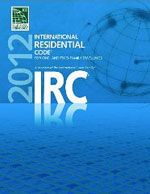 International Residential Code 2012: For One-And Two-Family Dwellings
IRC 2012 Looseleaf (Ringbinder)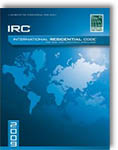 International Residential Code 2009: For One-And Two-Family Dwellings
International Residential Code 2009 (Looseleaf - Ring Binder)
Previous Versions of the International Residential Code
IRC 2006 - Softcover
IRC 2006 - Looseleaf

2003 IRC - Softcover
2003 IRC - Ring Binder

2000 IRC - Softcover
2000 IRC - Ring Binder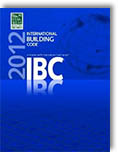 International Building Code 2012

International Building Code 2012
(Looseleaf - Ring Binder)

Previous Versions of the International Building Code
IBC 2009 - Softcover
IBC 2009 - Looseleaf
IBC 2006 - Softcover
IBC 2006 - Looseleaf
2003 IBC - Softcover
2003 IBC - Ring Binder
2000 IBC - Softcover
2000 IBC - Ring Binder
More International Code books...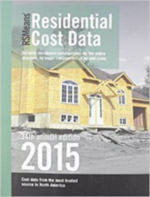 RS Means Residential
Cost Data 2015
Square Foot Costs, Assemblies Costs and Unit Costs with Location Factors to adjust material and labor costs to U.S. zip codes and selected locations in Canada
More cost estimating books...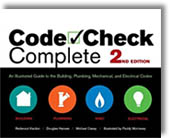 Code Check Complete:
An Illustrated Guide to the Building, Plumbing, Mechanical, and Electrical Codes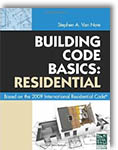 Building Code Basics: Residential
Based on the 2009 International Residential Code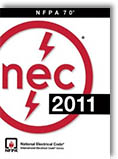 National Electrical Code 2011

National Electrical Code 2008
National Electrical Code 2005
National Fire Protection Association
More electrical code books...


Architectural Graphic Standards
10th Edition Book & CD ROM
This book has been the authoritative design & construction reference book since 1932
More books about architecture


Do-It-Yourself Housebuilding:
The Complete Handbook
by George Nash
More DIY books...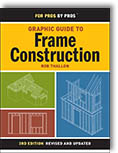 Graphic Guide to Frame Construction:
Details for Builders & Designers
by Rob Thallon
More framing & carpentry books...
More Related Links
CAD Software & Demos
Cost Estimating Books
House Plans & Blueprints
Tools & Projects
More Construction Books
Construction Schedule
Tornado Safe Room
Loans & Mortgages
Our Lost & Found
Trade Associations
Photo Album
Stuff 4 Kids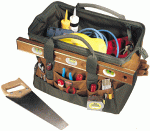 Pro Super GateMouth
More Bucket Boss Products


Construction Master Pro Calculator
Convert Feet-Inch-Fraction-Metric
Board Feet, Rafters, Stairs and more
More construction calculators


Find Tools & Hardware
Scheduling Software
Construction Schedule
Scheduling Template
Related Books
Builders & Contractors
Do It Yourself
Estimating Prices
Related Links
Building Codes
CAD Software
Tools & Hardware
Generally speaking, building codes are developed by well intentioned people who are actively involved in the construction industry. Their original purpose, as stated in the CABO One and Two Family Dwelling Code, is "to provide minimum standards for the protection of life, limb, property, environment and for the safety and welfare of the consumer, general public and the owners and occupants of residential buildings regulated by this code." However, it is important to keep in mind that building codes are adopted, modified and enforced by local politicians and government officials. Something else to remember about building codes is the fact that they "are not intended to limit the appropriate use of materials, appliances, equipment or methods of design or construction not specifically prescribed by the code, provided the building official determines that the proposed alternate materials, appliances, equipment or methods of design or construction are at least equivalent of that prescribed in this code..." In other words, you might be able to use alternate construction methods or materials, provided you can prove - to the satisfaction of the building official — that your way is as good or better than what the code book prescribes.
Building codes are constantly changing and they can vary by state, county, city, town, and/or borough. While some states, like California, Florida, Michigan, New York and a few others, have their own set of building codes (typically based upon some version of the ICC with changes to accommodate local laws and regulations), most states have adopted the International Code Council series, which are much more national than international at the present time — but it sounds impressive and it is good to be optimistic about the future. The ICC codes are typically updated with a new printing every 3 years. However, you should be aware that the wheels of government tend to turn more slowly and less... (I'll stop there;-) than private business. So, the most current printing of any set of building codes may not be the specific set of codes that will apply to any given construction project.
Always Check with Your Local Building Code Department
In order to learn which codes are being used and how they will affect you and your construction project, contact your local building inspection department, office of planning and zoning, and/or department of permits. You may want to start by calling the most local government body that has jurisdiction over the property where you will be building. They should be able to provide you with specific information about which building codes are currently being used as guidelines in your area. You should also ask for any local changes or modifications that have been adopted by that local jurisdiction. Local boards, councils, and assemblies frequently exclude portions of "standard" codes and/or adopt requirements that are not specifically prescribed in code books. Depending upon other specifics about your project -- including but not limited to whether or not you have a well, septic system, wetlands, sensitive environmental conditions, or public use areas -- you may also be subject to state and/or federal requirements.
State Government Pages - Building codes, business licenses, building permits, contractors licenses, and home improvement licenses are often issued and administered by state agencies. Most state government Web sites follow a standard Internet address format. To find online information in your state, use the following URL (uniform resource locator), substituting the 2 letter abbreviation for the state where you want to find information:
https://www.state.ca.us or https://www.maryland.gov
County Government Pages - Building codes, business licenses, building permits, contractors licenses, and home improvement licenses are issued and administered by county agencies, as well. County Web sites often use the following URL format, substituting the 2 letter abbreviation for the county and state where you want to find information:
https://www.co.ba.md.us or https://www.baltimorecountymd.gov
Harford County, MD - Department of Inspections, Licenses, and Permits - When do you need a building permit? How much does it cost? What building codes are used? These are some of the common questions answered on this Web site. While the information may not be representative of the requirements in your local jurisdiction, it is a good example of how local government Web sites can provide useful information about the permit process. For those new to working with building codes, the Harford County Code/Law page provides some insight into just how many different national, state, county, city, and/or town codes and government agencies may have jurisdiction over what you are planning to build - have fun!
Decoding Building Codes - by Professor Paul R. Fisette, Director NRC (Department of Natural Resources Conservation) - Building and Construction Technology, University of Massachusetts Amherst. While this particular article is about building codes, Paul specializes in the areas of light-frame construction, energy efficiency, sustainable development, building performance, and materials performance. He frequently contributes articles to various regional and national publications and he graciously answers questions from our visitors, but please check his publications first to see if you can find the answer there.
Code Check - This site features some very handy, spiral bound, laminated building code reference books by Redwood Kardon. They are designed to be easy to use in the field and to hold up well under jobsite conditions. Many builders and building inspectors consider them indispensable.
You may preview the books and order them from the publisher, Taunton Press, or you may use the following links to order the books through our affiliation with Amazon.com and possibly pay a little less than list price.
International Code Council - The ICC was founded in 1994 by BOCA, ICBO, and SBCCI in order to develop a single national building code in the United States. The Council of American Building Officials (CABO), the previous umbrella organization for the three nationally recognized model code organizations in the United States was incorporated into the ICC in November of 1997. They are comprised of officials who are responsible for the enforcement of building codes in their state and local jurisdictions.
Note: The 2015 International Codes are now available. However, at the time of this writing, a single, uniform building code is still not a reality in the United States, let alone in the "International" community as the name implies. Simply put, government agencies do not always work as quickly as the private building sector. Even though the three major code organizations (BOCA, ICBO, SBCCI) have all been consolidated into a single building code organization (ICC) most local inspection agencies use building codes that are several years old. Worse still, virtually every government jurisdiction that controls building permits and inspections has modified the 'standard' codes to some extent. So, be sure to check with your local department of permits and licenses to see exactly which building codes — and their respective revision dates and modificiations — are applicable to your specific project.
Here are links to some older building code books:
BOCA - Building Officials & Code Administrators International, Inc. has been consolidated into the International Code Council (ICC).
ICBO - the International Conference of Building Officials has been consolidated into the International Code Council (ICC).
SBCCI - the Southern Building Code Congress International has been consolidated into the International Code Council (ICC).
Building Energy Codes - from the U.S. Department of Energy, this site provides information about residential and commercial national energy codes and standards. Check to see if your state requires compliance with the Model Energy Code and download free software (REScheck) to determine whether your new home or addition meets the requirements of the MEC.
NCSBCS - The National Conference of States on Building Codes and Standards, Inc. "on behalf of the nation's governors and their chief building regulatory officials, promotes the development of an efficient, cooperative system of building regulation to ensure the public's safety in all buildings, residential and commercial."
List of NFPA Codes & Standards - (includes NFPA 70: National Electrical Code®) - Published by the National Fire Protection Association (NFPA), this code is "adopted and enforced in all 50 states in the United States." It is over a thousand pages long and forms the basis for electrical codes in several foreign countries as well.
International Association of Plumbing and Mechanical Officials - The IAPMO is an "association representing the interests of international tradespersons." Among other things, they develop and maintain plumbing and mechanical life safety codes and standards under the following names: Uniform Plumbing Code (UPC), Uniform Mechanical Code (UMC), Uniform Solar Energy Code (USEC), Uniform Swimming Pool, Spa & Hot Tub Code (USPC), ANSI A40 Plumbing Code (ANSI-A40) and the Uniform Fire Code (UFC)
Americans with Disabilities Act - information from the U.S. Department of Justice about the ADA and its impact on new construction, alterations and renovations.
The Access Board - an independent Federal agency that develops and maintains accessibility requirements, provides technical assistance and training on accessible design guidelines and standards, and enforces accessibility standards for federally funded facilities.
Here are direct links to a few ADA publications:
ADA Compliance Manuals - a list of books available from Amazon.com that deal with the Americans with Disabilities Act and code compliance on a state by state basis.
Smart Codes in Your Community: A Guide to Building Rehabilitation Codes - this August 2001 report, distributed by the Department of Housing and Urban Development Office of Policy Development and Research, contains "a broad overview of the general regulatory environment governing the use and reuse of existing buildings. It also provides examples of state and local efforts to reduce regulatory complexity and suggests possible strategies to help spur reinvestment in the existing building infrastructure."
Code Fusion - This is an article that was written by Andy Siegel and submitted to our site for publication. It is about the establishment of the International Code Council (ICC) and their efforts to develop a single set of comprehensive and coordinated national building codes by the end of the year 2000.
Occupational Safety and Health Administration - Technically speaking, OSHA is not a building code or building permit related agency. However, OSHA inspectors have the power to impose heavy fines and/or shut down a jobsite should they find serious safety violations. So, anyone who works on, or is responsible for, a construction site or business facility needs to be familiar with OSHA regulations. Now, kinder and gentler;-) than they have been in the past, their Web site offers safety information, statistics, and publications.
Florida Building Code Online - The full text of the current Florida Building Code, which was substantially modified in response to severe hurricane damage to houses built under older building codes, can be found after following a few clicks on this site. The exact link changes over time as databases are updated, but the last time we checked you could find it here:
2007 Florida Building Code including 2009 Supplement - reading it should keep you busy for quite awhile;-)
[ links index ] [ homebuilding software ] [ related books ] [ house plans ]