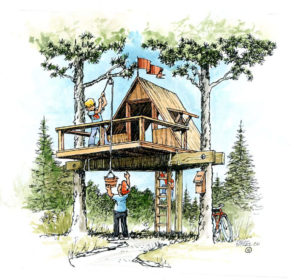 A-frame houses are often built as vacation homes, second homes or mountain retreats. The steeply sloping roof lines, which give this house style its distinctive appearance, allow room for second floor lofts and they help to minimize the impact of heavy snow falls. Relatively large gable end roof overhangs, expansive glass and minimal vertical wall surfaces help to reduce exterior maintenance, since most roofs never need to be painted or stained.
This house style also lends itself to waterfront or low lying building sites on property subjected to potential flooding as a-frame structures adapt well to pole and piling construction.
However, keep in mind that the steep roof design also creates a rather large triangular dead space where the "roof walls" and floors intersect, which limits usable floor space and may create some difficult areas to furnish – be very careful getting out of bed if it is placed close to a side wall.
Also, be sure to consider traffic flow throughout each room in the house; furniture placement; kitchen & bathroom cabinet layouts; closet space; toilet, tub & shower locations; and the minimum required head room in all habitable areas when calculating the actual versus usable square footage in an A-frame home design.