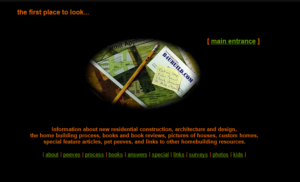 Since its inception in 1997, the popularity of the B4UBUILD.COM Web site has been steadily increasing. What began as a hobby during the early stages of the Internet, quickly developed into a full time project focused on making B4UBUILD.COM the first place to look before you build a new house or remodel an existing home.
We are currently updating our entire Website — upgrading servers, migrating to CSS based layouts and validated HTML standards, adding new content, experimenting with new features, and introducing a brand new ad server program. In addition to delivering various types of industry standard banner ads on a site wide basis, it will allow us to display your message on pages with similar content. Few other forms of marketing offer the ability to closely monitor and verify the effectiveness of your advertising campaigns. Each day, your company name and/or products will appear before thousands of homeowners and homebuilders who are each just one click away from visiting your Web site or buying your products.
Advertising on the B4UBUILD.COM Web site has proven to be an excellent value for residential construction, home repair, mortgage, and home improvement related businesses. We provide a targeted residential construction and custom home building audience. And, unlike some Web sites that charge on a per month basis for sponsoring a particular page — without providing an accurate accounting of the number of people viewing your advertisement — we only invoice for the number of times your banner is actually displayed. Your advertisement will be seen by owners and builders directly responsible for selecting, recommending, and purchasing home related products and services. Every visitor to B4UBUILD.COM is your potential client or customer.
When you are ready to discuss an Internet marketing plan, which is custom designed to promote your business, you are welcome to contact our marketing team for more information. We offer high and low volume advertising packages, banner creation services, and very competitive rates — especially for the next few months as we work on remodeling and updating the B4UBUILD.COM Web site.