Masonry Construction, Fireplace Design, Brick, Block & Stone Renovation & Repair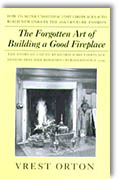 The Forgotten Art of Building A Good Fireplace: How To Alter Unsatisfactory Fireplaces & To Build New Ones in the 18th Century Fashion (The Story of Count Rumford & His Fireplace Designs)


Bricklaying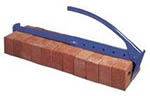 Bon Tool Co. Brick Tongs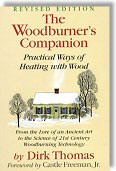 The Woodburner's Companion:
Practical Ways of Heating With Wood


Fireplace & Mantel Ideas:
Design, Build and Install Your Dream Fireplace Mantel
More Fireplace Books


Building with Masonry:
Brick, Block & Concrete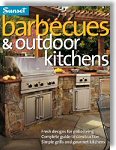 Sunset Barbecues & Outdoor Kitchens



The Bread Builders:
Hearth Loaves & Masonry Ovens


Stonework:
Techniques and Projects
More books about stone...


Restoring Houses of Brick & Stone


Brick Saws, Mortar Mixers, Grinders, Concrete Mixers, Concrete Saws and more at NorthernTool.com


Stabila 48 Inch Mason's Level
Features Dead Blow Shields designed to be hit with a trowel

Brick Hammer
Brick Set (Brick Chisel)
More masonry tools...
Related Information
Photo Album
Concrete Footings
Building Codes
Homebuilding Books
Brick Sample Wall - if you are building with brick, remember that mortar is a large part of most brick walls. Be sure to ask your brick supplier for enough brick and mortar to build a sample wall, on site, using the exact mortar and sand you will be using in the final project. Also be sure to ask your mason to build the sample panel with brick batts, turned so the ends are exposed, just as they will be laid at jambs and outside corners. Often the ends of coated bricks will appear differently than the face, which may result in a "zipper effect" if every other brick is a different shade or color.
Brick Industry Association - The Brick Institute of America and the National Association of Brick Distributors have merged to form the BIA. If you have a question about bricks, or masonry fireplaces, this is the place to start. There are dozens of technical notes on brick masonry arches, heat transmission, moisture and sound properties of bricks, fireplace design and construction, chimney details, and many other topics. A very informative site!
Note: Mortar should be protected from freezing for at least 48 hours after construction. If your project involves laying brick or block during cold weather, be sure to read Technical Notes 1: All-Weather Construction
Clay Brick and Paver Institute - this Australian brick industry site features a collection of technical manuals and publications, a short history of brick, and an informative article titled " How Are Bricks Made? " (PDF), which explains the brick making process.
Preservation Briefs - a publication of the National Park Service, this site contains more than 40 articles about repair and preservation of historic barns, log buildings, pole barns & buildings, adobe and other types of historic structures. Other topics include graffiti removal, roofing, painting, plaster, stucco, lead paint and a very thorough article on "Repointing Mortar Joints in Historic Masonry Buildings".
The Masonry Heater Association of North America - this trade association site has plenty of pictures of masonry heaters constructed of brick, stone, soapstone, and stucco. There is also a section with brick and adobe bake ovens or bread ovens and links to manufacturers, suppliers and contractors.
Chimney Safety Institute of America - is a trade organization that certifies chimney sweeps after they pass an exam based upon knowledge of "the practice of sweeping and the observance of the codes and standards that pertain to chimney construction, maintenance and service." Visitors may use the CSIA Web site to find a CSIA Certified Chimney Sweep, learn why fireplaces sometimes smoke, how often they should be cleaned and other commonly asked questions about fireplaces.
Brick Mailboxes - Pictures of brick and stone mailboxes to give you some ideas of what can be built.
Rumford Fireplaces - Great fireplace site! Dealing mostly with the tall narrow style fireplace named for Count Rumford. Pictures, plans, specifications, and links to fireplace information.
Superior Clay Corporation - Manufacturers of vitrified clay Rumford fireplace throats, panelized herringbone fireboxes, clay bake ovens for masonry cooking fireplaces, clay flue liners, decorative clay chimney tops, vitrified clay wall coping, clay sewer pipe, terra-cotta mailboxes and special order architectural terra-cotta products.
Installing A Brick Walkway - "Step-By-Step" instructions for creating a brick paver walk, from Popular Mechanics magazine - be sure you read our Narrow Sidewalks Pet Peeve... B4UBuild;-)
Nawkaw Corporation - established in Toronto, Canada as Masonry Art, Ltd., this company adopted their current name in 1986 and began selling franchises in Australia, Canada, Russia and the United States. Nawkaw "manufactures and installs proprietary masonry coating products to an array of products including brick, block, precast, mortar, natural and cultured stone, granite, marble and more." Their specialty is color matching new and old masonry, which is particularly useful to hide repairs, additions or just plain bad masonry work.
International Masonry Institute - is "a joint labor management trust dedicated to promoting the unionized masonry industry" serving the International Union of Bricklayers and Allied Craftworkers. They represent members in the following trades: bricklaying, tilesetting, stone and marble masonry, mosaic and terrazzo work, cement finishing, plastering, masonry restoration and refractory work.
National Concrete Masonry Association - a national trade association, which represents the concrete masonry industry in the U.S.
National Lime Association - trade association for U. S. and Canadian manufacturers of high calcium quicklime, dolomitic quicklime, and hydrated lime. They offer several publications about the use of lime and cement-lime mortars in building construction.
WestBlock Systems - developers of various types of dry-laid retaining wall systems for commercial and residential applications. Their site contains step-by-step installation instructions for each of their products.
Marshalltown Trowel Company - manufacturers of brick trowels, pointing and margin trowels, block tools, concrete tools, and drywall tools. Their site contains information and instructions for laying concrete block, bricklaying, pouring concrete, as well as finishing drywall.
Check current tool prices by using the following link:
Brick Manufacturers
Beldon Brick - produces face brick and paving brick. Their Web site contains over 200 brick samples available for on-line viewing. Beldon is a good source of white bricks. Just remember that most white bricks are coated, since clay is usually red, orange or brown. Any chips will allow the body color to show.
Brampton Brick - a Canadian brick manufacturer offering a page showing brick shapes and another explaining efflorescence, but not many brick sample pictures as of this writing.
Cherokee Sanford Brick - the Web site of this North Carolina brick company offers a very good section on brick shapes and sizes, bullnose treads, watertables, wall copings, keystones, jack arches, Roman arches, circular and elliptical arches, segmented arches, as well as, large pictures of their brick products and pictures of houses built with that particular brick.
Glen-Gery Brick - has manufacturing facilities in Iowa, Missouri, New Jersey, Ohio, Pennsylvania, and Virginia that produce extruded, machine molded, authentic handmade and glazed facebrick, brick paving units, pool copings, an assortment of standard brick shapes and custom shapes. Their Web site includes project photos, design ideas, and an interesting "Product Selection" tool that allows you to choose a brick, match it to various mortar colors, and see how it looks in 4 different frames at the same time. However, I had a little trouble navigating around their site until I discovered that the main links appear on the left, as well as, the top right of the screen.
Hanson PLC - an international building materials company that includes Richtex Brick in South Carolina, Boren Brick in North Carolina, U.S. Brick in Texas and Mississippi, Sipple Brick in Kentucky, Michigan Brick in Michigan, and Hanson Brick Europe with facilities in Belgium and the UK.
Jenkins Brick - has production facilities in Alabama and distribution yards in Alabama, Georgia, Florida, and South Carolina.
Redland Brick - parent company of Harmar, KF, and Cushwa molded, antique and handmade bricks.
Triangle Brick - North Carolina brick company founded in 1959 and purchased by Roeben Tonbaustaffe, a German manufacturer of face brick, ceramic roof tiles and ceramic floor tiles. The Triangle Brick Company manufactures sand faced, handformed, tumbled, washed, matte glazed, ironspots, smooth, wire cut and textured bricks in modular, engineer, queen, king, closure, utility and Norman sizes.
[ links index ] [ house plans ] [ tools & hardware ] [ masonry books ]