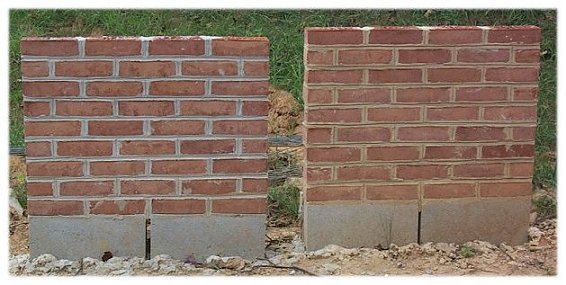 Which brick sample do you like best?
Actually, the brick used on both sample panels is the same. The only difference between the two is the mortar color. The panel on the left was built using a standard gray Type S mortar, while the mortar in the sample on the right is a more expensive colored mortar. A grapevine tool was used to strike the mortar joint on both panels. Since a large portion of the visible area of any masonry veneer wall is the mortar joint, it is always a good idea to see an actual sample on the job site before the masons start laying brick on your new house.
You should also ask your mason to include samples of any brick that will be laid in a different pattern or exposure. For example, on every corner, you will see the end of every other brick in every other course. The brick batts (half bricks) used in these sample panels should have been turned to reveal the ends. Then they would have appeared exactly the way they will actually be laid on the corners of the house, and everyone would know how the finished product would look. This policy is not only good for the homeowner, but it is good for the builder as well. Many bricks look different on the end, and like so many other aspects of building a new home, if you know what to expect, you will seldom be disappointed.
BTW, did you know that mortar is available in different strengths? Type M is the strongest and is not generally used to lay bricks on vertical surfaces. Type S is normally used for exterior brick veneer. Type N is generally used inside, particularly where freezing temperatures occur. Type O and Type K are seldom used any more but when they are, you may find them being used with old bricks since they allow some movement in the wall to help minimize cracking of softer brick.
Here is an easy way to remember the types of mortar, in order of strength from left to right:
M a S o N w O r K