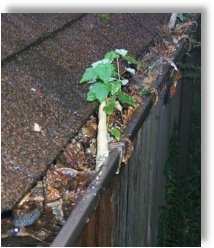 Gutters... who needs the hassles? Why would anyone want to attach these crud collectors on their house? What good are they anyway? How does one clean all the stuff out of them? What is available to keep leaves and other debris out of my gutters? And perhaps most importantly, does anything actually work?
The gutters shown in the pictures on this page obviously could use some cleaning and a good system to keep them clean. They are located on a contemporary cedar home built on a heavily wooded lot, in Maryland. Believe it or not, these gutters where cleaned about 6 months earlier, after the leaves had already fallen off the trees, yet we found some of the best looking night crawlers we have ever seen happily wriggling around in them. How do worms get up there anyway?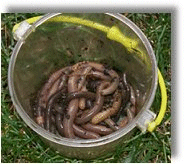 For many builders, contractors, and homeowners, gutters and downspouts are required elements of residential construction. When local building codes mandate their use, an occupancy permit will not be issued until gutters and downspouts have been installed or there is a written promise to do so as soon as possible. In other cases, gutters are installed because the risk of a legal situation arising after water enters a basement - "because a reasonable person should have known the value of properly directing rain water away from a basement or crawl space" - is simply too much of a risk to take.
When I was regularly building new houses, clients would frequently ask us to install some type of gutter cover when we installed the gutters and downspouts. Since I could not recommend any product to be completely effective, and many products actually made the inevitable gutter cleaning almost impossible,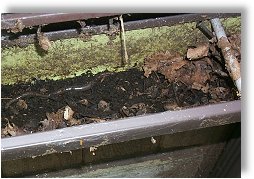 we chose to politely refuse to install anything that we could not warrant. We never installed aftermarket gutter covers for any of our clients.
In recent years, several new products have emerged on the market, and several older products have apparently been proven -- at least somewhat -- effective. I would like to find out for myself what products actually work and how effective they really are. So, we have been reviewing gutters, downspouts, rain water deflectors, gutter screens, and gutter guards.
We have already started cleaning our gutters and testing the first group of products. We are visiting job sites where gutter covers have been installed and talking to homeowners to see how effective they have proven to be. We are also talking with contractors who install various gutter protection systems to get their viewpoints about cost, ease of installation, and effectiveness.
As our reviews will continue for several years, information will be added as we are able to make determinations about the effectiveness of various products. You are invited back to see if we can find any products that will really allow you to stop cleaning your gutters every year. I don't know about you, but I could sure use one less item on my list of things to do!
Do you have a product you would like to recommend? Have you installed something that actually works? Did you waste your time installing something that doesn't work? Please let us know so we can add it to our list of products to test and include your feedback in our reviews.