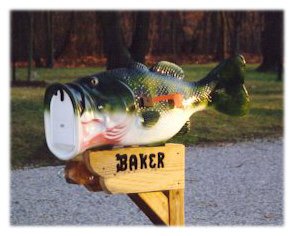 Back in 1998 when this photo was first placed on our Web site, we recieved a surprisingly large number of requests for information about where to buy one of these — the Internet was still pretty young and most local hardware stores didn't get too excited about stocking a relatively expensive bass mailbox when a nice boxy metal thingy would hold mail just as well.
Anyway, as you can see in the widget below, a quick Internet search today will provide you with plenty of sources for a handsome ditty just like this to place in a prominent spot in front of your summer fishing cabin on the lake.
[ photo index ] [ back ]
Copyright © 1998 & 2008 by B4UBUILD.COM
Web site design by GS Design, Inc.