Building A Deck House: A Photographic Record of the Homebuilding Process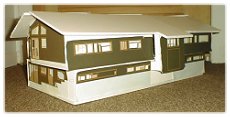 Poster board scale model at 1/4 inch = 1 foot.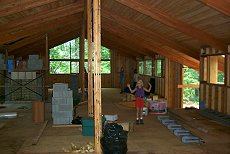 The roof is on, windows have been installed, the Rumford fireplace is under construction, interior framing is ready to begin, and the junior building inspectors are making their rounds.

After several years of extensive planning, research & design work, Scott and Chris are finally building their new home on a wooded building lot in northern Maryland. What follows is an attempt to document, in words and pictures, the design-build process of a panelized post and beam Deck House, which this husband and wife owner-builder team is constructing.
At the present time, the shell of the house is complete and the roofing has been applied. The upper level interior framing is almost finished and the plumbing, electrical and mechanical contractors are starting to layout and rough-in their work. During the early stages of assembling this photo album and commentary, pictures may be added out of sequence. However, as more photographs are included over the next few weeks, the photographic timeline should catch up with the actual jobsite progress in the rough-in stage.
The design process
Building layout
Sediment control & construction entrance
Strip topsoil and excavate foundation
Footings and block foundation
Panel delivery and framing
Waterproofing and drain tile
Underground plumbing
Rumford fireplace installation
Roofing
[ back to photo album index ]
| home | about us | pet peeves | resources | lost & found | book reviews |



| plans | answers | special | directory | surveys | photos | kids | shop |
Copyright © 1999 - 2000 by B4UBUILD.COM
Web site design by GS Design, Inc.