Paints, Stains, Sealers, Caulks, Drywall, Wallcoverings & Decorating Links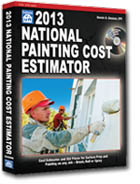 2013 National Painting Cost Estimator
Book & CD

Pentagon Tool "Tall Guyz" Professional 18"-30" Black Drywall Stilts For Sheetrock, Painting or Cleaning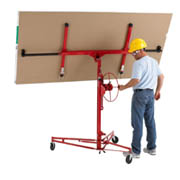 Lazy Lifter Professional Drywall Lift Hoist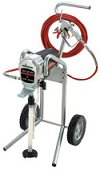 Wagner Piston Pump Paint Sprayer

The Color Scheme Bible:
Inspirational Palettes for Designing Home Interiors


Drywall: Professional Techniques for Great Results


Color:
Natural Palettes for Painted Rooms


Professional Painted Finishes


The Art of Faux:
The Complete Sourcebook of Decorative Painted Finishes
More painting & decorating books

Understanding Wood Finishing:
How to Select and Apply the Right Finish - by Bob Flexner
Additional Reading
Related Information
BEHR Process Corporation - Shortly after the end of World War II, Otho Behr, Jr. began selling linseed oil from the back of his woody station wagon. When his customers asked for a product that would work better on redwood, he and his chemist father began working together to manufacture a clear wood finish and stain. Since then, the company has expanded into the architectural paint business and joined the Masco family of companies.
Benjamin Moore & Co. - Interior and exterior paint calculators, painting instructions, paint selection tips, and an index of common paint related problems with associated pictures and recommendations, are some of the notable features of this colorful and informative site.
DAP - Caulks, sealants, construction adhesives, concrete repair products, floor leveling mixes, ceramic tile mastics, and other related products are featured on this site. You will also find dozens of Do-It-Yourself Projects to help you complete some of your home repair and improvement tasks.
Duron Paints & Wallcovering - With stores located in the eastern portion of the United States, Duron has always specialized in serving professional painting and wallcovering contractors. However, anyone can purchase their products and their site offers some helpful "Do-It-Yourselfer Tips."
Debbie Travis' Painted House - This Canadian television show, which is seen in over 50 countries around the world, features Debbie demonstrating different ways to decorate with paint. At the time of this writing, there are 130 shows listed, most of which contain pictures and instructions to perform the faux painting techniques featured during that show, as well as, a list of tools and materials needed to perform the work. The Trompe l'oeil ("tricks the eye") molding in the Louis XV Bathroom is pretty amazing.
Books by Debbie Travis
Videos by Debbie Travis
Georgia-Pacific Gypsum LLC - Georgia Pacific is a major supplier of building materials. This section of their site contains information about gypsum board products (drywall or wallboard) and Dens-Shield® tile backer board. DensArmor Plus® paperless interior drywall is a relatively new product that is considerably more resistant to mold than traditional paper faced drywall.
Gloucester Co., Inc. - Founded over thirty-five years ago in Franklin, Massachusetts, this company originally produced a sealant for the seams of wooden boat hulls. Today, they are known for their PHENOSEAL® line of caulks, sealants, specialty adhesives and water-based liquid waterproofing.
Masterchem Industries, Inc. - Manufacturers of KILZ® Primers, which are commonly used for sealing stains and odors that might otherwise find themselves migrating to the surface of paint finishes.
Minwax - Manufacturers of wood conditioner, wood stains, polyurethane and tung oil finishes, wood cleaners, paste wax and antique oil finish.
National Paint & Coatings Association - The NPCA represents approximately 400 paint and coatings manufacturers, raw materials suppliers, and distributors. Their site contains some good information about dealing with lead paint, managing leftover paint, choosing paint colors, finishing wood furniture, as well as, plenty of interior and exterior painting tips and tricks.
Paint Quality Institute - Formed in 1989 by Rohm and Haas Company, a manufacturer of specialty chemicals used in paints and dozens of other products, "to educate people on the advantages of using quality interior and exterior paints and coatings." Among other information, this site contains a step-by-step painting guide, a glossary of painting terms, an explanation of paint ingredients, painting calculators, design ideas, and solutions to common painting problems.
Pratt & Lambert - This paint company was founded in 1849 and they have been associated with high quality alkyd (oil-based) and latex paints ever since. Their site contains plenty of good information about painting and decorating, including a paint calculator and a "Color Personality Quiz" that might help you determine your perference for interior and exterior color selections.
The Sherwin-Williams Company - A very large Web site with tips and step-by-step directions for professional and do-it-yourself painters. Topics include interior and exterior surface preparation and painting, faux finishing techniques, a staining guide, paper hanging directions, project planners, tool selection guides and more.
USG - U.S. Gypsum claims to be "the world's largest producer of gypsum wallboard, joint compound and a vast array of related construction products." Their Web site contains a SHEETROCK Estimator, information about fire rated construction, sound control and acoustical design, installation manuals and product application guides and other useful information.
Wallcoverings Association - This trade association has a mission "to advance the welfare of members engaged in the manufacture, distribution and sales of wallcoverings." And, their Web site goes a long way towards doing just that. Whether you are an architect, interior designer, contractor, or weekend wallpaper hanger, you will find plenty of information on the subject of wallcoverings. For those new to paper hanging, their Residential Resource Center provides information about various types of wallcoverings, how to estimate materials, how to hang wallpaper, what tools you will need, a "Decorator's Dictionary" and current trends in the wallcovering industry.
[ links index ] [ painting & decorating books ] [ painting & decorating videos ]