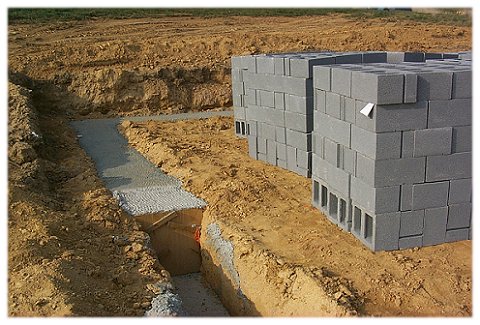 These footings have been formed and poured with a step or jump. The top of the footings at the higher elevation has been set about 8 inches lower than what the top of the concrete basement floor will be. The difference allows for a 4-inch layer of stone or gravel and the 4 inch thickness of the slab itself.
The step down was necessary to keep the bottom of the footings below the frost line as the grade changes around the house. For efficient use of labor and materials, footing jumps need to be sized to correspond to the size of the lightweight concrete masonry units (AKA - CMU's, concrete block, block, or cinder block) that will be used to build the foundation walls. In this case, the step is 16 inches to accommodate two courses of block that are each 8 inches in height.
Notice that the bottom layer of block in each cube is turned on its side so they can be moved with the forks of lifting equipment.
[ back ]

| home | about us | pet peeves | resources | lost & found | book reviews |



| answers | special | directory | surveys | photos | kids | shop |
Copyright © 1998 & 2008 by B4UBUILD.COM
Web site design by GS Design, Inc.