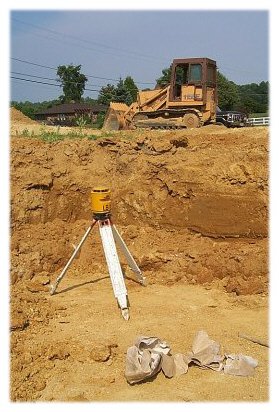 The track loader (bulldozer) pictured in the background was the heavy equipment used to excavate for the basement of this new house. The yellow instrument on the tripod is a laser level. It works by sending out a low power laser beam that is continuously rotated 360 degrees at a constant elevation. A receiver (shown in another picture) is placed on a rod which is raised or lowered until the laser beam hits it and activates an audible sound. By adjusting the distance from the receiver to the bottom of the rod, the bottom of the footing excavation and the top of the concrete can both be accurately determined.
[ back ]

| home | about us | pet peeves | resources | lost & found | book reviews |



| answers | special | directory | surveys | photos | kids | shop |
Copyright © 1998 - 2000 & 2008 by B4UBUILD.COM
Web site design by GS Design, Inc.