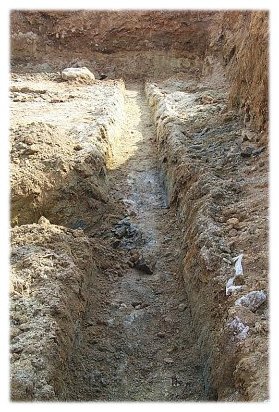 In the center of this picture groundwater is percolating through the porous layers of fine stone. In order to keep the excavation dry long enough to pour the concrete for the footings, a deeper collection pit has been dug next to this footing to temporarily divert and collect the water.
This is an example of a hidden condition, the cost of which is normally excluded from construction agreements. Any costs incurred as a direct result of this particular condition, including but not limited to, pumping out water, installing sub-surface drains, or providing a separate pump to divert the water from an underground spring or high water table may be passed on to the general contractor and the homeowners. When you develop your construction budget, be sure you have a contingency category to deal with these kinds of little surprises that occur during construction.
[ back to thumbnails ] [ back to site work ]

| home | about us | pet peeves | resources | lost & found | book reviews |



| answers | special | directory | surveys | photos | kids | shop |
Copyright © 1998 & 2008 by B4UBUILD.COM
Web site design by GS Design, Inc.