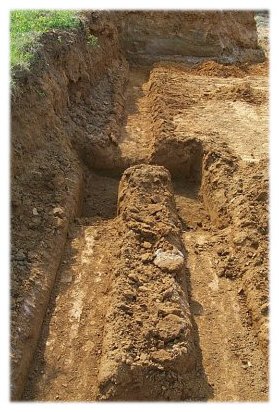 This picture shows how the footings have been stepped down in the areas adjacent to the door that will be installed at the bottom of the basement areaway. The footings in the foreground on the right will support the basement wall. The footings on the left will support the outer wall of the areaway that will contain concrete steps down to a concrete landing at the bottom of the steps. From this landing, one will be able to enter the basement door. In order to keep the footings under the doorway from heaving due to frost, they need to be lower than the rest of the footings.
While lowering the level of the footings in this situation seems fairly obvious, once it is explained, it is sometimes overlooked which could cause problems with the foundation in the future. If you are building in an area that is subject to freezing temperatures, be sure to consider how frost will affect all of the various components of your new house.
[ back ]

| home | about us | pet peeves | resources | lost & found | book reviews |



| answers | special | directory | surveys | photos | kids | shop |
Copyright © 1998 & 2008 by B4UBUILD.COM
Web site design by GS Design, Inc.