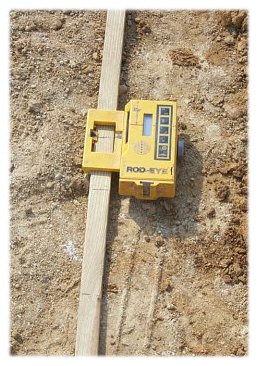 This is a picture of a laser level receiver. When the low power laser beam emitted by a laser level (shown in another picture) hits the receiving window, an audible sound is produced alerting the operator that the device is level with the beam. By adjusting the receiver up or down on the rod, various level elevations can be determined around the foundation. Unlike "old fashioned" building levels or transits, a laser level can be set up and used by just one person.
[ back ]

| home | about us | pet peeves | resources | lost & found | book reviews |



| answers | special | directory | surveys | photos | kids | shop |
Copyright © 1998 & 2008 by B4UBUILD.COM
Web site design by GS Design, Inc.