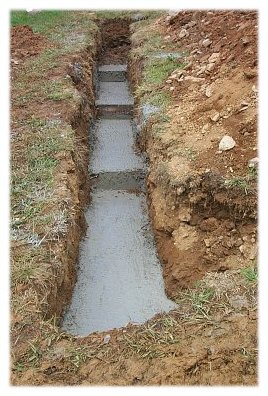 This is a picture of recently poured concrete step footings. When a structure is built on a sloping lot or when the soil bearing conditions require a change in elevation, concrete footings my be stepped up or down to follow the grade. These footings will support the concrete block foundation for a new garage so the steps have been built in 8 inch increments to work with the block coursing and remain below the frost line.
[ back ]

| home | about us | pet peeves | resources | lost & found | book reviews |



| answers | special | directory | surveys | photos | kids | shop |
Copyright © 1998 & 2008 by B4UBUILD.COM
Web site design by GS Design, Inc.