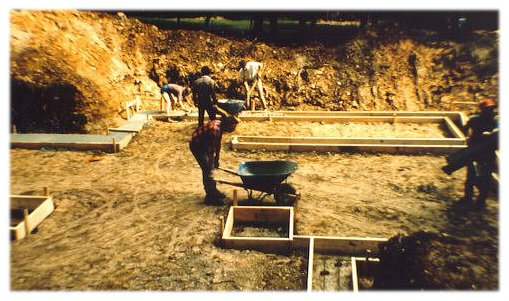 There are two basic ways to address the installation of concrete footings; dig them or form them. Each method has advantages and disadvantages. This picture shows footings being poured using the formed method.
Formed footings require minimal digging that can be done with flat shovels. While this method requires the purchase of form lumber and the labor to cut, level, and install it, the costs of a backhoe and operator are not incurred. The form material can be reused for other parts of the structure and little concrete will be wasted.
In this picture, wheel barrows are being used to move the concrete from the chute of a concrete truck on the right into the wooden footing forms. The forms have been built using 2 x 10's that have been placed on top of good bearing soil, at the bottom of the basement excavation, and secured into position with wooden stakes. A rake is used to help place the concrete and a wooden screed is used to drag the concrete level with the top of the forms. Notice that 2 rows of re-bar have been installed in the bottom third of the forms for reinforcement before the concrete is poured. Footings support your entire house, don't try to pinch pennys here.
[ back ]

| home | about us | pet peeves | resources | lost & found | book reviews |



| answers | special | directory | surveys | photos | kids | shop |
Copyright © 1998 & 2008 by B4UBUILD.COM
Web site design by GS Design, Inc.