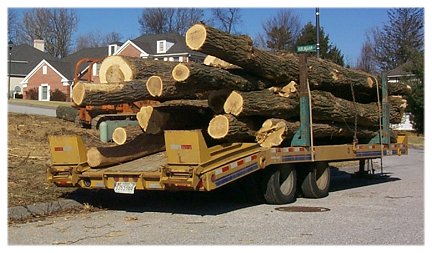 These Black Locust (robinia pseudoacacia) trees where cleared from a "wooded building lot". The logs have been stacked on this flat-bed trailer ready to be hauled to the saw mill.
When you buy a building lot, keep in mind that you will probably need to remove all of the trees, brush, and other vegetation within a distance of approximately 20 feet from where your house will be built. Vegetation will probably also need to be cleared from the areas that will become the driveway, the septic system or public sewer connection, access for a well drilling rig, access for water, gas, cable, electric, telephone, and other utility connections, easements, right-of-ways, drainage areas, and/or storage or staging areas. The boundaries of these combined areas that will be cleared during construction is commonly referred to as the limit of disturbance and may be regulated by local laws, regulations, covenants, or deed restrictions.
While you can't tell from this particular picture, after the trees where removed from the building envelope of this property it could no longer be classified as a "wooded lot". So, you may actually be paying a premium twice; once to the property owner for the opportunity to purchase a "wooded building lot" and the second time to a tree clearing company and/or an excavator to clear the trees off your lot and haul them away.