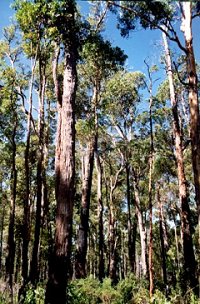 The Australian forest block. Three quarters of an acre of Jarrah, Marri and three Karri trees which will remain when clearing is complete.
Building a Mud Brick Pole House in Australia
Leonie is a fifty-something school teacher who lives in the southern part of western Australia; about 400 kilometers outside of Perth. One of her goals in life was to build a mud-brick house using local building materials whenever possible. So, when the opportunity to purchase a small block of forest near a lake outside of an ex-mill town presented itself, she decided the time was right for her to build her dream.
She had watched other people build houses and she had listened to their construction stories, but this would be the first house Leonie had ever built. Most of her male friends advised her that the best option, for her, would be to buy a kit home and have someone else put it up. However, Leonie was determined to "do her own thing".
What follows is a photographic record of the construction of a pole house in the Australian bush. Click on the construction phases shown below.
[ photo album index ] [ pole house building books ]

| home | about us | pet peeves | resources | lost & found | books |



| answers | favorite links | surveys | photos | kids | shop |

Copyright © 1999, 2008, 2012 by B4UBUILD.COM