Woodworking for Kids: 40 Fabulous, Fun & Useful Things for Kids to Make
by Kevin McGuire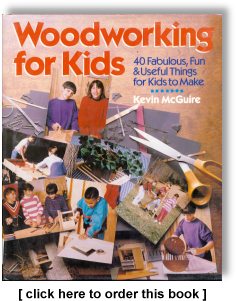 Reading Level: Ages 9-12
Paperback, 160 pages
Published by Lark Books
Publication date: September 1994
Dimensions (in inches): 0.43 x 10.00 x 8.54
ISBN: 0806904305

This book by writer and painter Kevin McGuire contains 40 projects designed to be built by kids with the help of an adult. Kevin provides a list of 12 hand tools for a child's tool kit, and how to use each of them. He describes different types of nails and screws, 2 different types of joints, how to trace patterns, and various wood finishes.
The projects include a materials list, safety tips, skill levels, and step by step instructions.
The young woodworker is offered choices of the following projects:
Bench Hook
Miter Box
Bit Bin
Tool Box
Workbench
Balance Beam
Rope Ladder
Adjustable Stilts
Tic-Tac-Toe Game
Wooden Pocket Knife
Doll's Cradle
Bike Rack
Hockey Set
Display Cabinet
Desktop Bookshelf
Baseball Hold-All
Study Partner
Modular Shelf Unit
Thumbs-Up Coat Rack
Audio-Video Storage Cube
Throw Bone
House Mouse
Bird Box
Pet Restaurant
Pet Nest
Bird Buffet
Place-Card Holders
Picture Easel
Magazine Rack
Trivet
Key Caddy
Crumb Box
Cargo Ship
Bull-Roarer
Lively Snake
Folk-Art Sculpture
Whistle
Leaf Mobile
Slit Drum Puppet Theater
[ back to bookstore ] [ plan center ] [ stuff 4 kids ] [ tools ]
Home
About Our Site
Pet Peeves
Resources

Books
Lost & Found
Answers
Special Features

Favorite Links
Surveys
Photo Album
Stuff 4 Kids

Copyright © 1997 - 2001 by B4UBUILD.COM
Site Design by GS Design, Inc.