The Well-Built House - by Jim Locke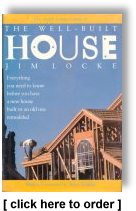 Revised
Paperback, 302 pages
Published by Houghton Mifflin CO (Pap)
Publication date: September 1992
Dimensions (in inches): 8.97 x 6 x .84
ISBN: 0395629519
The Well-Built House is an excellent book which everyone who is considering having a new house built, or remodeling an older one, should read. It was written by Jim Locke, a carpenter and partner in the Apple Corps contracting firm in Massachusetts, and one of the heroes of Tracy Kidder's best-selling book House. The process of home building is explained from concept to finished product in terms that a novice will be able to understand yet with enough technical tips to teach a seasoned builder a thing or two.
Part One, Planning and Paperwork, will help you get started in the right direction and help you understand the people that you will work with in the home building process. These first 3 Chapters alone are worth the price of the book and will have the most impact on the overall job. Part Two, Building the House, contains 9 chapters describing the phases of construction, and Part Three, Finish Work, guides you through the final stages of completion.
Reading about the author's real-life experiences building custom homes, will help prepare the prospective homeowner for a unique adventure, while the veteran builder will be reassured that "this could only happen to me" is being uttered everyday by others in his profession.
[ back ]
Home
About Our Site
Pet Peeves
Resources

Books
Lost & Found
Answers
Special Features

Favorite Links
Surveys
Photo Album
Stuff 4 Kids

Copyright © 1997 - 2000 by B4UBUILD.COM
Site Design by GS Design, Inc.