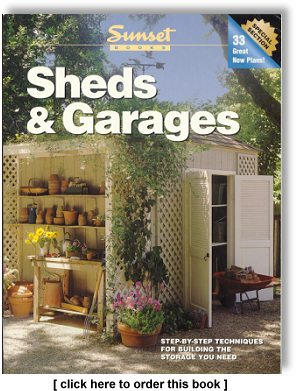 Paperback, 128 pages
Published by Sunset Publishing Corp.
Publication date: August, 1996
ISBN: 0376013753

Note: This review pertains to the first edition of this book, which you might still be able to find in your local library. The 2nd Edition, published in November 2003, can be found here on Amazon.com and the 3rd Edition, published in January 2008, can be found here on Amazon.com
The book Sheds & Garages begins with a color picture gallery including 23 photographs of tool sheds, one and two car garages, barn style buildings, backyard structures, and a children's playhouse. It then moves on to provide the reader with tips on planning your building. Minimum recommended space requirements for a single car, as well as, a two car garage are included in this section. Basic information about garage and shed construction, planning for plumbing, electrical wiring, financing and legal considerations, how to get the job done, and the tools required to do so, are all addressed in the planning stages before you build. The next 4 chapters provide the reader with step-by step instructions for building a garage or shed. Starting with site preparation, concrete footings, foundations, and slabs, you are provided with detailed drawings and instructions for each phase of construction. Wall and roof framing, exterior finishes, roofing, installing windows and doors, siding, gutters and downspouts, and automatic garage doors. The section on finishing the interior of your new building includes basic information about plumbing, wiring, insulation, drywall, trim, and stair installation. The last section of the book contains 33 sketches of plans and elevations that can be ordered through the Sunset/HomeStyles Plan Service. Available plans include, among others, one and two story plans, one, two, and three car garages, clerestory and greenhouse sheds, and several different styles of freestanding backyard workshops.
Readers with some building experience should be able to adapt the drawings and ideas in this book to develop their own plans. Reasonably priced blueprints should provide those attempting their first building project with an inexpensive way to get started. This book, like many other Sunset Books, provides plenty of useful and practical information. In my opinion, it is well worth the modest price to anyone thinking of spending a few weeks building a place to store more stuff.


[ back to bookstore ] [ garage plans ]
Home
About Our Site
Pet Peeves
Resources

Books
Lost & Found
Answers
Special Features

Favorite Links
Surveys
Photo Album
Stuff 4 Kids

Copyright © 1997 - 2000, 2008 by B4UBUILD.COM
Site Design by GS Design, Inc.