Backyard Play Areas You Can Make: Complete Plans and Instructions for Building Playhouses, Forts, and Swing Sets - by Paul Gerhards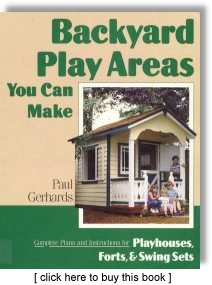 Paperback, 160 pages
Published by Stackpole Books
Publication date: February 1995
ISBN: 0811730883

This book contains 15 backyard play areas for your children or grandchildren to enjoy. Each project is clearly shown in black and white plans and construction drawings. Material lists, diagrams, and step-by-step instructions will guide you through the entire building process.
Hideaway
Bunkhouse
Alpine A-Frame
Fort Frontier
Covered Bridge
Katie's Cottage
Cascade Fire Tower
Classic Swing Set
Homestead
Modular Climb-Around
Classic Gambrel Barn
Swing-Bar Combo
Stilt House
Monkey Tower
Suburban
Paul Gerhards' mother said "you're never too old for a playhouse" and she is absolutely right. When you are ready to build one, this book has some great projects. The introduction explains the materials and hardware you will need, foundation and floor fundamentals, framing, and "dressing up" the finished products. The step-by-step instructions are easy to understand and follow.
This book has some really neat structures for kids of all ages.




Other books by Paul Gerhards:

[ back ] [ links for kids ] [ construction toys ]
Home
About Our Site
Pet Peeves
Resources

Books
Lost & Found
Answers
Special Features

Favorite Links
Surveys
Photo Album
Stuff 4 Kids

Copyright © 1997 - 2000 by B4UBUILD.COM
Site Design by GS Design, Inc.