Debbie Travis' Painted House - by Debbie Travis and Barbara Dingle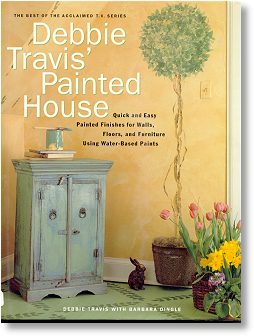 Hardcover, 184 pages
Published by Meredith Books
Publication date: November 1997
ISBN: 0609601555

Debbie Travis has been decorating homes with paint since she was a little kid, when she painted her bedroom fire engine red while her parents where out one afternoon. After a few weeks of headaches, trouble studying, and sleeplessness, she realized that paint is a very effective and inexpensive decorating tool that can "transform any space into your own personal vision", good or bad.
While we are finishing the rest of this review, you can click on the picture of the cover to see what others are saying about this book. Please check back to read our completed review of Debbie Travis' Painted House.
[ back to bookstore ]
Home
About Our Site
Pet Peeves
Resources

Books
Lost & Found
Answers
Special Features

Favorite Links
Surveys
Photo Album
Stuff 4 Kids

Copyright © 1997 - 2000 by B4UBUILD.COM
Site Design by GS Design, Inc.