Norm Abram's New House
by Norm Abram, John Murphy (Illustrator)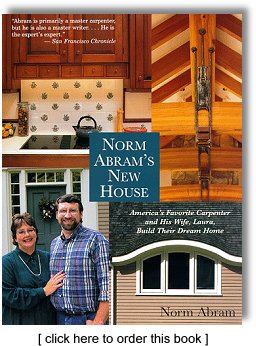 Paperback
Published by Little Brown & Company
Publication date: June, 1996
Dimensions (in inches): 9.19 x 7.47 x .71
ISBN: 0316004103
This book is out of print. You may be able to find it at your local library or you can click here to search for a used copy.
As many of you may already know, Norm Abram is the master carpenter on public television's This Old House. He is also the host of his own woodworking show, The New Yankee Workshop, where he demonstrates how to build classic furniture from "measured drawings," with more power tools than any one person should be allowed to have.

The book starts in 1991 when Norm and his wife Laura were looking to buy an existing house, closer to Boston, for a shorter commute to work and a better school for their daughter. While Norm would much rather follow in his carpenter father's foot steps and build his own home, he felt that his busy schedule would not allow him to devote the necessary time. As you might expect, after looking at the quality of the houses that he and his wife liked, it wasn't long before he realized he would not be happy until he found the time to pursue his dream.

What follows is a very good story about the people, decisions, and events that are all a part of the Abram's four year experience of building their own custom home. Norm explains the construction process from lot purchase to move-in and there are just enough black and white pictures and drawings to help the reader visualize the work along the way, although it would have been nice to see a few color photographs. His extensive background in construction and his experience on television allow Norm to make intelligent decisions throughout the project while clearly explaining his reasoning to the reader.

This is a very good book, written by a very knowledgeable expert, which I highly recommend. It will help builder and owner better prepare for the home building experience while still being a very interesting story for everyone else to read.


Other books by Norm Abram include:
This Old House Web site
The New Yankee Workshop Web site
[ back to book index ]
Home
About Our Site
Pet Peeves
Resources

Books
Lost & Found
Answers
Special Features

Favorite Links
Surveys
Photo Album
Stuff 4 Kids

Copyright © 1997 - 2000, 2002 by B4UBUILD.COM
Site Design by GS Design, Inc.