The Home Design Guide: Planning, Building or Buying Your Dream Home - by James Shepherd, G. Alan Morledge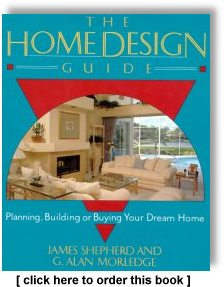 Paperback, 287 pages
Published by Dearborn Publishing
Publication date: March 1, 1995
ISBN: 0793112834
Note: This title is out of print. You may click here to see if Powell's Books has a used copy in stock or you may want to visit your local library to see if it is still available there.
The introduction says, "this book has been developed to give you insight into the most important factors of house design. Its lessons will be equally rewarding, whether planning a new house, reviewing the drawings from a catalog of house plans or considering a house already built." In my opinion, it is an accurate assessment of what this book is about. Rather than trying to address all of the little details, the authors do a very thorough job of outlining the major design points that need to be considered throughout the entire process of building or buying a home. The information in this book will help you make important decisions about the house that you are about to build, or buy.
Part One deals with the building site and the importance of location, zoning, easements, building codes, topography, foundations, water & sewer issues, and matching the lot to the home. Part Two addresses issues of exterior house design, house style, special design features, exterior finishes, roof designs, decks, patios, porches, garages, and basements. Part Three, deals with the interior design of your home. It covers different common floor plans, basic room groupings, furniture placement, windows and doors, fireplaces, kitchen and bath design options, and the traffic and circulation patterns that need to be considered. The appendixes provide information about specific products, features, and finish options, including different types of windows and doors, heating and cooling options, solar heating, flooring, cabinets, plumbing, and electrical systems.
Other than the cover, there aren't any color pictures, but the line drawings are plentiful and generally very effective. What impressed me the most about this book, is how the authors have been able to make the reader aware of so many important details that must be considered before, during, and even after you make a decision to purchase a home. They describe the available options, the advantages and disadvantages of each, and the important points to consider, so that readers will be able to make the decisions that are right for them. Whether you are a first time homebuyer looking for a sound resale investment, or a seasoned homeowner building a final monument to your name, this book should be equally helpful.
[ back ]
Home
About Our Site
Pet Peeves
Resources

Books
Lost & Found
Answers
Special Features

Favorite Links
Surveys
Photo Album
Stuff 4 Kids

Copyright © 1997 - 2001 by B4UBUILD.COM
Site Design by GS Design, Inc.