Step-By-Step Decorative Painting - by Peter & Paula Knott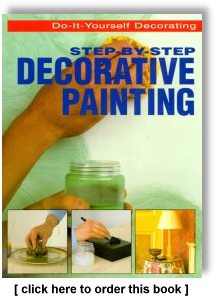 Paperback, 96 pages
Published by Meredith Books
Publication date: February 1997
ISBN: 0696206781

This book is part of the "Do-It-Yourself Decorating" series by Meredith Press. It provides the reader with clear and concise information about decorative paint finishes and techniques.
After a brief introduction, the first section contains pictures of various paint effects, including rolled rag, color-washed, bagged, brushed, sponged, stippled, waxed, distressed, combed, and antiqued finishes. The next section shows the tools you will need and explains different types of paints and their uses. The section on planning and preparation deals with choosing paint colors and combinations, preparing wood and plaster surfaces, and choosing paint types. The three sections that follow show the reader how to mix paints, and apply many different painting techniques.
"Step-By-Step Decorative Painting" provides the reader with different ideas of how to create decorative finishes with paint. The step-by-step instructions and photographs are clear and easy to follow. You can start with the easy techniques and before long, you will be creating advanced paint finishes on walls, ceilings, floors, furniture, picture frames, moldings, or anything else that doesn't move fast enough to get out of your way.
You know, our powder room could really use a fresh coat of paint.
[ back to bookstore ]
Home
About Our Site
Pet Peeves
Resources

Books
Lost & Found
Answers
Special Features

Favorite Links
Surveys
Photo Album
Stuff 4 Kids

Copyright © 1997 - 2000 by B4UBUILD.COM
Site Design by GS Design, Inc.