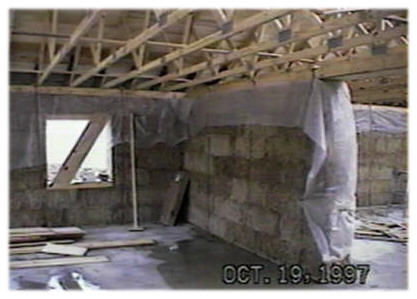 The straw bales that frame this garage are 18 inches wide x 14 inches tall x 38 inches long, and provide insulation values of around R-45. This 3,600 square foot house is near Hanover, PA and consists of 700 extra tightly compressed bales of straw at a cost of $3.00 each.
Besides saving thousands of dollars on lumber costs, the owners wont have to buy insulation for the walls. The straw bales are also very effective at reducing sound transmission. A straw bale house could be just the thing for a noisy neighborhood.
[ back ]
Copyright © 1998 & 2008 by B4UBUILD.COM
Web site design by GS Design, Inc.