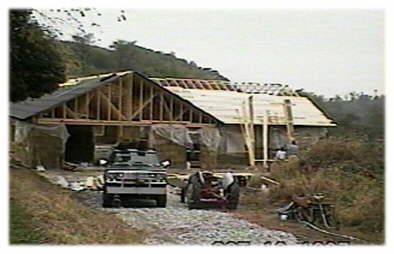 Leon and Lana, the owner/builders of this custom home, believe it to be the first straw bale house built in Pennsylvania. It is certainly the only one we have ever seen.
After joking about a television program showing someone building a house out of straw, (no, not the 3 Little Pigs) Leon's sister gave him a book by Bill Steen as a gag gift for Christmas. Next thing they knew, he was on his way out to Arizona to learn more, and you are looking at where things went from there.
The day we were on site, they were installing long rough sawn planks for roof sheathing. According to Leon, the price was right, and they were easier for him to handle by himself than sheets of plywood.
[ back ]
Copyright © 1998 & 2008 by B4UBUILD.COM
Web site design by GS Design, Inc.