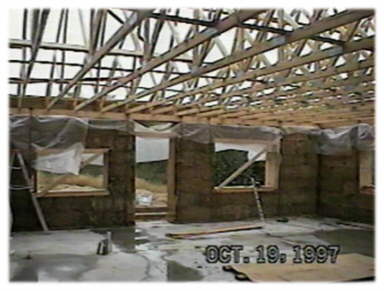 This is another view of the bedroom wing of this straw bale house. The concrete floor has plastic pipes embedded in it for the radiant floor heat that will eventually be installed. This type of heat, while initially more expensive than more traditional heating methods, can be very efficient and is probably the most comfortable way to heat a home. Just think about walking around on a warm floor in the middle of a cold Pennsylvania winter.
[ back ]
Copyright © 1998 & 2008 by B4UBUILD.COM
Web site design by GS Design, Inc.