Mechanical Systems: Heating, Ventilation & Air Conditioning (HVAC) Links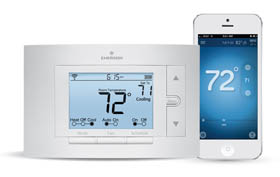 Sensi Wi-Fi Programmable Thermostat
Special Promotion Expires Dec. 15th
Note 1: Check the Sensi Website for Energy Rebates through your local utility.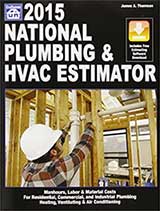 National Plumbing & HVAC Estimator 2010
Book & CD ROM Manhours, Labor & Material Costs for Residential, Commercial and Industrial Plumbing, Heating, Ventilating and Air Conditioning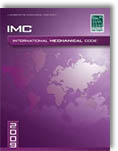 2009 International Mechanical Code
Ringbound Looseleaf Binder
2009 IMC Softcover Paperback
2006 IMC Looseleaf Binder
2006 IMC Softcover Paperback



2009 International Fuel Gas Code
Ringbound Looseleaf Binder
2009 IFGC Softcover Paperback
2006 IFGC Looseleaf Binder
2006 IFGC Softcover Paperback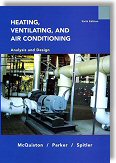 Heating, Ventilating and Air Conditioning: Analysis and Design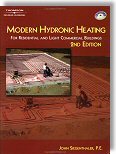 Modern Hydronic Heating for Residential & Light Commercial Buildings


HVAC/R Terminology


Heating Systems for Your New Home


Refrigeration and Air Conditioning Technology


Forced Hot Air Furnaces


Builder's Guide to Cold Climates:
Details for Design and Construction


Builder's Guide to Mixed Climates:
Details for Design and Construction
Related Links
Related Information
ENERGY STAR ® - is a voluntary partnership among the U.S. Department of Energy, the U.S. Environmental Protection Agency, product manufacturers, local utilities, and retailers. In addition to information about energy efficient heating and cooling equipment, you will find listings for Energy Star rated appliances, office equipment, windows, light fixtures, insulation and more.
Energy Efficiency and Renewable Energy Network - part of the U.S. Department of Energy, this is a large Web site, which provides information about many different aspects of energy efficiency. Links to some of the more relevant HVAC information appear below:
Heating and Cooling Equipment Selection (PDF) - A typical family may spend as much as 60 percent its annual utility budget on heating and cooling. Careful selection and sizing of HVAC equipment can reduce initial costs, increase personal comfort, increase operating effciency, and greatly reduce utility costs.
Whole-House Energy Checklisth (PDF) - 50 Steps to Energy Efficiency in the Home
Better Duct Systems for Home Heating and Cooling (PDF) - A series of six guides intended to "provide a working knowledge of residential heating and cooling duct systems, an understanding of the major issues concerning efficiency, comfort, health, and safety, and practical tips on installation and repair of duct systems.
Using a Heat Pump to Heat and Cool Your Home - information about air-source heat pumps, ground-source or geothermal heat pumps, and gas-fired heat pumps.
Choosing a Heat Pump - information about heating and cooling capacity and energy efficiency ratings, including coefficient of performance (COP), energy efficiency ratio (EER), heating season performance factor (HSPF), seasonal energy efficiency ratio (SEER), and ENERGY STAR® qualifications.
Geothermal Heat Pumps - a general overview of geothermal heat pumps, also known as ground source heat pumps, which are used for heating and cooling, as well as, for providing hot water as a byproduct of the air conditioning cycle.
Radiant Floor Heating and Cooling Systems - information about the three types of radiant floor heat: air, electric, and hydronic (hot water).
Ductless, Mini Split-System Air-Conditioners and Heat Pumps - an outdoor compressor/condenser unit and an indoor air-handler with a conduit for the refrigerent line, suction tubing, condensate drain and power supply cable used for room additions and retrofit applications.
Directory of Certified Product Performance - this database, from the Air-Conditioning and Refrigeration Institute (ARI), offers applied and unitary certified performance ratings for air conditioners, air-to-air heat pumps, water-source heat pumps, and other residential and small commercial HVAC equipment. Search by product type, manufacturer, model number, and/or ARI reference number for SEER ratings (Seasonal Energy Efficiency Ratio), HSPF ratings (Heating Season Performance Factor), EER ratings (Energy Efficiency Ratio), COP ratings (Coefficient Of Performance), sound ratings, pressure drops, heating and cooling capacity, and other technical information.
HVAC Equipment Manufacturers
American Standard Inc. - You probably already know that they manufacture bathroom and kitchen fixtures and fittings, but did you know they also sell Trane® air conditioning, heating & ventilation products, as well as, automotive braking & control systems and medical diagnostics products?
A.O. Smith Water Products Company - Manufacturers of gas, electric, and oil water heaters, boilers, hot water storage tanks, and hot water generator systems that use steam or boiler water.
Bradford White® Corporation - Manufacturers of gas, electric, and oil water heaters, boilers, and heat exchangers used for radiant heating. Their site also contains some good images of the anatomy of a water heater.
Bryant - Founded in 1904 by Charles Bryant, as the Natural Gas Regulator Company, Bryant now produces air cleaners, air conditioners, boilers, gas furnaces, oil furnaces, heat pumps, humidifiers, and rooftop HVAC systems. In 1996, they became one of the first companies to start using Puron ® (R-410A refrigerant) as a replacement for chlorofluorocarbons (CFCs) such as Freon (R-22). A United Technologies Company.
Burnham Corporation - Manufacturers of residential and commercial gas and oil boilers, indirect water heaters, zone controls, cast iron baseboard, radiators, and radiant heat systems. "A Homeowner's Guide To Hydronic Heating" offers some helpful information and a general overview of hydronic heating.
Carrier Corporation - founded by Willis Haviland Carrier, who "invented the basics of modern air conditioning in 1902," the Carrier Corporation manufactures heating, ventilation, air conditioning & refrigeration (HVAC&R) equipment of all types for residential and commercial applications. A United Technologies Company.
Copper Tube Handbook - a production of the Copper Development Association, a trade group promoting the copper and brass industries. It explains the difference between Type K, Type L and Type M copper tube (K has thicker walls than L and L has thicker walls than M), offers design and installation data, and it contains instructions for soldering and brazing copper joints.
Fantech - manufacturers of ventilation equipment including, in-line duct fans, air screens, roof and wall mount exhaust fans, vent lights, grills, roof caps, louvered shutters, controls and switches, dampers and other related products.
Heatway - Radiant floors and snow melting equipment including high temperature aluminum barrier hydronic rubber tubing, crossed-linked polyethylene radiant tubing with an oxygen barrier, Heatweave® electrical resistance floor warming system, manifolds and hydronic controls.
Lennox Industries - founded in 1895 "when Dave Lennox designed the first riveted steel furnace in Marshalltown, IA" this company manufactures residential and commercial air cleaners, furnaces, heat pumps, air conditioners, humidifiers, air exchangers and other HVAC products.
Mestek, Inc. - a family of more than 30 manufacturers providing fire, smoke and air control dampers, hydronic kick-space heaters, baseboard heating products, cast iron boilers, portable air conditioners, flexible metal pipe and other HVAC products and services. Specific product lines include OmegaFlex flexible gas piping and SpacePak high velocity central air conditioning systems.
Nuheat Industries Ltd. - "Pre-built" electrical radiant floor warming system for use under tile, stone, laminate and engineered wood surfaces.
Radiantec Company - This Vermont radiant heating company has a very informative Web site that promotes the use of underfloor heat systems.
Rheem Manufacturing Company - This wholly owned subsidiary of Paloma Industries of Nagoya, Japan includes Ruud and Raypack. They produce water heaters, central warm air furnaces, air conditioners, heat pumps, swimming pool heaters and commercial boilers.
Spruce Environmental Technologies Inc. - Manufacturers of inline ventilation fans and duct boosting fans. Originally designed for use in sub-slab radon mitigation systems, Spruce inline fans are now used in bathroom and kitchen exhaust systems, dryer vent duct boosting, moisture removal, fresh air injection, make-up air supply, general ventilation and other indoor air quality applications.
Sanyo Heating and Air Conditioning - Manufacturers of ductless air conditioners, wall mounted air conditioners and heat pumps, recessed and suspended ceiling air conditioners and heat pumps, concealed duct heat pumps, through the wall units, and portable air conditioners.
Stadler-Viega - Hydronic heating systems manufacturer whose products include floorheating systems, snowmelt systems, manifold plumbing systems, and radiator connection systems. Their Climate Panel System® is designed for woodframe construction and can be installed above the subfloor, which is the preferred application, or below the subfloor and between the joists for retrofit installations. Brand name products include: cross-linked Pextron® tubing, Pexcel PureflowTM Water Distribution Systems, S-NO-IceTM system.
The Trane Company - Founded in 1913 by James Trane, a steamfitter and plumber, and his son Reuben, a mechanical engineer, Trane® is a worldwide supplier of indoor comfort systems. Manufacturers of commercial, industrial, and residential heating, air conditioning, and ventilation systems and controls. The company was acquired by American Standard in 1984.
Unico, Inc. - While the typical forced air heating system delivers air at about 500-600 feet per minute, the Unico System operates at 2,000 feet per minute. Conditioned air is sent at high velocity through flexible "mini-ducts" consisting of a main plenum that is either 7 or 9 inches in diameter and 2 inch supply tubing that runs to each supply outlet. Due to the small ductwork sizes, the Unico System is well suited for renovation projects and the tight spaces of older homes. Richard Trethewey, the HVAC expert on This Old House, used this system when he renovated his own old house.
WarmlyYours - Thin electric radiant floor heating systems designed for installation under tile, natural stone, hardwood, carpet, and floating wood floors.
Watts Radiant, Inc. - Manufacturer and supplier of components for radiant heat and snow melt systems, turf warming, rootzone heating, permafrost protection, domestic water systems and hydronic or electric radiant heat technologies.
Weil-McLain - Manufacturers of cast iron boilers for steam or hot water hydronic heating applications.
Wirsbo Company - Manufacturer of Engel Method cross-linked polyethylene (PEX) tubing used in radiant floor heating, snow-melt, and plumbing systems.
York International - supplier of heating, ventilating, air conditioning and refrigeration (HVAC&R) equipment.
HVAC Related Trade Associations
Air Conditioning Contractors of America - ACCA
Air-Conditioning and Refrigeration Institute - ARI
Air Movement and Control Association - AMCA
American Society of Heating, Refrigerating & Air Conditioning Engineers - ASHRAE
Geothermal Energy Association - GEA
Geothermal Heat Pump Consortium - GHPC
Heating, Refrigeration and Air Conditioning Institute of Canada - HRAI
International Ground Source Heat Pump Association - IGSHPA
National Air Duct Cleaners Association - NADCA
Northamerican Heating, Refrigeration & Airconditioning Wholesalers Association - NHRAW
Plumbing, Heating, Cooling Contractors National Association - PHCC
Sheet Metal and Air Conditioning Contractors' National Association - SMACNA
[ directory index ] [ book store ] [ house plans ] [ appliances ]


Building a play area for kids? Instead of sand, mulch or wood chips, consider...